Just in time for the international Open Data Day, numerous new geo-datasets and corresponding web services of the Swiss Confederation (in particular, from the Federal Office of Topography, swisstopo) will be made available free of charge on 01.03.2021. We are cividi - a civic tech startup developing open urban data platforms - organizing a week of virtual activities open to everyone.
During the week, solutions will be developed and tested in groups, and the results will be published on a common challenge platform. On Saturday, the results will be presented in a plenary session. Furthermore, impulse lectures, discussions and support from the cividi team and the community contribute to the active exchange of knowledge. We look forward to all your creative hacks and prototypes! Read more ....
Practical Info
Virtual Space
🚀 Results
🎦 Live
About Us
📅
🕑
🏹
Monday
16.00-17.00
Opening Ceremony
Introduction to the event, and a presentation from Raphael Bovier introducing us to swisstopo data sources and helpful resources to get started.
Tue-Fri
8.15-8.30
Check-in Morning Booster
Tuesday
16.00-17.00
Speakers Corner
Presentation by Ilya Boyandin of geodata visualization tools from Unfolded, and a discussion of project ideas and kickoff strategies with hackathon participants.
Wednesday
16.00-17.00
Speakers Corner (our apologies for issues with the video in first 5 min)
Featuring Simon Rösch from Ubique introducing the Open Mobile Map SDK. We take a look at the first set of projects being worked on by the teams.
Thursday
16.00-17.00
Speakers Corner (presentation in German)
With our guest speaker Martin Nevosad from Luucy, we see how swisstopo data is used to power next generation applications in urban planning. Working with 3D building and terrain data for topics like solar power modelling are being discussed.
Friday
16.00-17.00
Speakers Corner
We find out how Swiss company MapTiler makes a truly global impact with geodata from Petr Pridal, who shares their tools for transforming and visualising open government maps. We then hear from Catherine Spivay on hackathon diversity and bridging communication gaps when working together as a team.
Saturday
15.00-17.00
Open Data Day & Final Presentations
The finale of our series features David Oesch on the resilient high-scale geoservices architecture at swisstopo, Oleg Lavrovsky on representing Switzerland in the Open Data Day celebrations, Viktoria Molnar on the open geodata business case at cividi, and (drumroll!) final presentations of the #geohackmin​ project results, and a closing statement by Viktoria on the week's outcomes, acknowledgements, and announcements.
Past events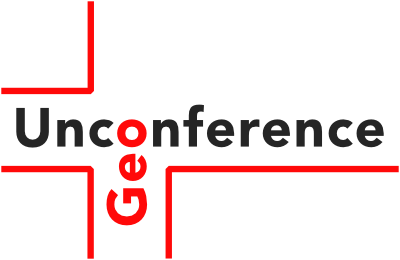 Die GeoUnconference steht unter dem Motto: Verbesserung von Zugang und Nutzung von Geodaten der Schweizer Behörden. Mögliche Ansatzpunkte für Ideen findest Du in der Strategie Geoinformation Schweiz. Diese legt dar, wie die Schweizer Behörden aktuelle und verlässliche Geodaten und Geoinformationen vernetzen und für alle einfach zugänglich machen wollen. Die Strategie hat die Vision: «Von Geodaten zu Wissen: Vernetzte und geolokalisierte Informationen für die Schweiz». Diese möchte sie in sieben Aktionsfeldern erreichen: Fördern des Ökosystems Geoinformation Bereitstellen geeigneter, verlässlicher und verknüpfbarer Geodaten Erleichtern von Geschäftsprozessen Entwickeln und Nutzen von Geodata Science Fördern von Innovation Aufbauen und Stärken von Kompetenzen Schaffen leistungsfähiger, offener und gemeinsam nutzbarer digitaler Geoplattformen [weiter lesen ..](https://geounconference.github.io/geounconference/)