gather.town
Community Space
Here you can find out about the networking and team-work platform of our hackathon.
Gather.Town is a virtual meeting place for our event, an online platform that each participant can join with a free user account or (anonymously) without any additional registration. The link was sent out when registering for the event, and you can join with a modern web browser. No app install or additional account required. Once you connect, simply give your avatar a name (or stay anonymous), allow access to your camera and microphone (if you like), and click enter.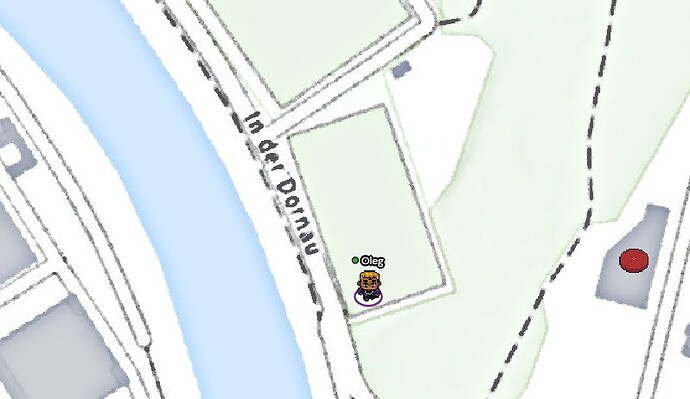 You are walking on the platform map using keyboard arrows. Gather has a proximity video chat - connect with other participants while in short distance of their avatars. Just walk away to disconnect. If you are looking for somebody in particular, click on their name in the list on the left, then use the Follow or Locate button.
Designed by Laurin Zoss, the Geo.Hackmin 2021 virtual community space features a main hall (mini map shown above) with a Lounge, Speaker's Corner, and six breakout rooms. Each of the rooms has it's own color, with floor markings guiding the way. You can even label your projects on dribdat with a color matching your room!
Throughout the space and in each team room (as pictured above) you will find objects to interact with. These add collaborative possibilities directly inside the virtual space. Bookshelves guide you to resources shared by organizers and fellow participants. The whiteboards allow real-time interactive multi-person sketching. The posters link to your submission project page.
Interact by pressing X on your keyboard. Various emojis are shown above your character when pressing 1 2 .. 6. For example, to ✋ raise your hand during a presentation, press 6. And if you just feel the rhythm and need to do a little dancing.. press Z!
Please note that there are some issues on Mac Safari, and limited experimental support for mobile devices. If you experience any other problems, please contact [email protected]
Don't miss our outdoor area inspired by the Swiss Geographical centrepoint!
For more tips visit Gather support
Go back