Open Geominder
Fighting devastating ignorance with geodata everyone can understand.
⛶ Full screen
The goal of this project is to set up simple ways to monitor and support free geodata publication.
Motivation
We originally thought about an application that enables pulling data offline. Doing so automatically and completely was deemed unrealistic in the short term, however we explored ways of presenting metadata statistically and graphically inspired by Gapminder Foundation and specifically their Open Numbers initiative, Open Knowledge Australia's Morph.io platform, and the Figure.nz project in New Zealand. We collected ideas about helping people to better differentiate, track, and sustain open government geodata, by simplifying data monitoring and collection as a community effort.
Release timeline
The prototype (shown at the top of the project page) that resulted in our collaboration with Swisstopo this week is an interactive timeline of dataset publications since 2013, based on TimelinerJS - an open source web tool popular in the Open Knowledge community - with the data so far scraped from the GeoAdmin release notes (example, source) using LibreOffice. Image are obtained with the screenshot service at the URL https://map.geo.admin.ch/?layers=<layername>&bgLayer=voidLayer
Crowdsourced timeline
There is also now a separate timeline (source) and corresponding form for collecting relevant community events and publications. If you would like to add to it, click here:
Community monitoring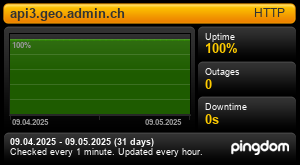 We tested an instance of a web uptime monitoring tool, Falco (using Ansible role and an Ungleich VPS) with which we can set up "pings" at regular interviews to key services - but found it to be rather limited in use. Basic uptime monitoring of the APIs (which have extremely high availability) is already done at https://api3.geo.admin.ch/api/status.html (screenshot above). We would want to be able to program notifications when data gets updated or new releases are availble. For further development, the following tools were also considered:
#TODO
Long term goals could include:
Further ideas are discussed in the forum:
Join
Geo.Hackmin Week